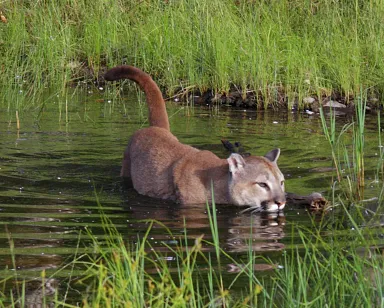 Video shows mountain lion wandering around California family's swimming pool
Have you ever seen a big cat swim? Check out this great interview with our very own Zara McDonald, the SF Gate covers a video interaction with a mountain lion along Lake Mission Viejo in Southern California.
Do You Have 2-4 Hours A Month To Preserve Your Local Ecosystem?
Our volunteers are the driving force behind making true change in ecosystem health and wild cat conservation. Some like to volunteer in the field, others help us maintain our online presence, and some work with events. With just a few hours a month, you can make a difference, too.
Make A Difference Right Now
As a 501(c)3 nonprofit, our work is only possible because of generous donors like you.
More than 90% of your donation will go directly to our groundbreaking research, outreach, and education programs.
This is where true change starts. If you'd like to be a part of it, make a donation to Felidae Conservation Fund today:
Or,