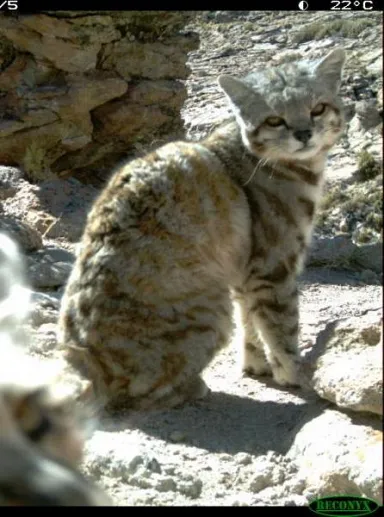 Species Facts
The Andean mountain cat is one of the least known felids in South America. It is extremely rare, with a very small distribution.
Scientific Designation: Leopardus jacobita
Endangered Status: Endangered (EN)
Lifespan: Unknown
Length: 95-130 cm
Profile
The species has long, thick fur and a coat of a pale, silvery gray. The coat is spotted and striped with blackish or brownish markings. White underparts are marked with dark spots. The tail is long and bushy, banded with about seven dark rings.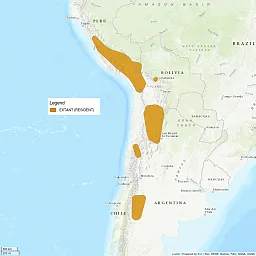 Distribution
The mountain cat lives high in the Andes of southern Peru, southwestern Bolivia, northeastern Chile, and northern Argentina. Within this limited range, the elusive mountain cat is usually found at elevations above 3,000 meters in the high, rocky, and generally treeless zone of the mountains. A mountain cat probably eats any small mammal, bird, or lizard it can catch.
Little is known about this cat. However, in the few cases when it has been observed, it seems to be active in periods both in the day and the night.
Distribution map courtesy of IUCN (International Union for Conservation of Nature), compiled in 2016 by Villalba, M.L., Lucherini, M., Walker, S., Lagos, N., Cossios, D., and Bennett, M.
Threats to the Andean Mountain Cat
Threats to this rare species include illegal hunting for its fur and habitat fragmentation. The loss of even a few individuals from the mountain cat's small population could be disastrous. The Andean Mountain Cat is classified as Endangered (EN) by the International Union for Conservation of Nature (IUCN).
Do You Have 2-4 Hours A Month To Preserve Your Local Ecosystem?
Our volunteers are the driving force behind making true change in ecosystem health and wild cat conservation. Some like to volunteer in the field, others help us maintain our online presence, and some work with events. With just a few hours a month, you can make a difference, too.
Make A Difference Right Now
As a 501(c)3 nonprofit, our work is only possible because of generous donors like you.
More than 90% of your donation will go directly to our groundbreaking research, outreach, and education programs.
This is where true change starts. If you'd like to be a part of it, make a donation to Felidae Conservation Fund today:
Or,